You'll love Rialto Family Dental Center's convenient location.
Exceptional dental care is a lot closer than you think. Dr. Patricia Pompa's general dentistry and cosmetic dentistry practice in Rialto, CA is easily accessible to patients throughout the area. Our great location, convenient office hours and friendly staff make every visit to Rialto Family Dental Center a pleasant experience. Remember, you don't have to travel far to get the quality care you deserve.
Location
RIALTO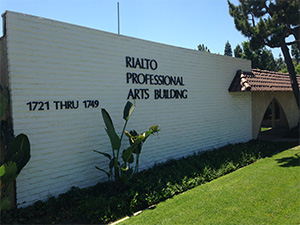 Address
1723 N. Riverside Ave.
Rialto, CA 92376

Phone
Office: (909) 874-3210

Email
Monday to Friday 8:30am - 5:30pm
By appointment only. Please call for availability.